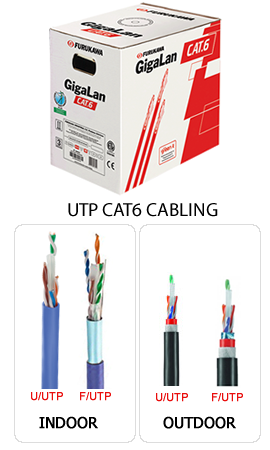 General Characteristics

Category

6

Bandwidth

250 MHz

Application

1. Exceeds physical and electrical requirement of ANSI/TIA/EIA-568C.2 standard.
2. The cable is in accordance with RoHS directives (Restriction of Hazardous
Substances)
3. It can be used with the following network standards
c. GIGABIT ETHERNET, IEEE 802.3ab 1000 baseT, IEEE 802.3an 2006;
b. 100BASE-TX, IEEE 802.3u, 100 Mbps;
c. 100BASE-T4, IEEE 802.3u ,100 Mbps;
d. 100vg-AnyLAN, IEEE802.12, 100 Mbps;
e. ATM -155 (UTP), AF-PHY-OO15.000 and AF-PHY-0018.000, 155/51/25 Mbps;
f. TP-PMD , ANSI X3T9.5, 100 Mbps;
g. 10BASE-T, IEEE802.3, 10 Mbps;
h. TOKEN RING, IEEE802.5 , 4/16 Mbps;
i. 3X-AS400, IBM, 10 Mbps;
j. Compatible whit RJ-45 Cat.6 male conector;
k. TSB-155
l. ATM LAN 1.2 Gbit/s, AF-PHY 0162.000 2001;

Type

UTP and FTP

Conductors

4 pairs, 23AWG


Flammability
grade

PVC, CM, CMR, PE, LSZH

Certifications

ISO 9001, ISO14001,RoHS Compliant, UL, ETL, Anatel

Standards Compliance
TIA-568-C.2, ANSI/TIA 569, ISO/IEC 11801 and UL 444.